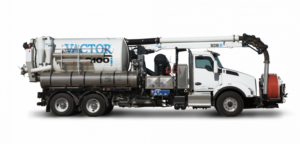 FLUSH TRUCK OPERATIONS COURSE
Date and time: September 28th and 29th, 2023, from 8:00 am to 4:00 pm PST
Penticton, BC (616 Okanagan Ave E)
COURSE DESCRIPTION:
PWABC is pleased to announce we will be again offering a two-day in-person course for
Safe Jetting Storm/Sanitary Infrastructure and Safe Jetting Storm/Sanitary Practical Field Application
This course will educate operators on the safe and efficient operation of jetting equipment used to clean, repair and maintain storm and sanitary sewer lines. The courses include information on operating procedures, ever day problems encountered, how to diagnose, assess and resolve issues in pipelines, hydraulics in sanitary and storm sewer pipes as well as practical and hands on demonstrations of jetting equipment used in municipal operations.
Operators will understand cleaning techniques, equipment selection and general storm and sanitary operational improvements. This course will provide the operator a better understanding of general pipeline inspection procedures and equipment set up.
Instructor Paul Bains, currently working at Public Works Engineering for District of Saanich has over 37 years of experience in the field and has been teaching for the last four years across Vancouver Island and the mainland.
Day 1 – Course 1 – 0.60 C.E.U's
Topic: Definitions / Objectives: Operator will recognize critical components required in jetting
Topic: Operating Procedures / Objectives: Thrust loads for different pressures and volumes
Topic: Sanitary/ Storm Mainlines / Objectives: Mainline maintenance and cleaning procedures
Topic: Safety Awareness / Objectives: Hazard assessment/ policies and procedure
Day 2 – Course 2 – 0.60 C.E.U's
Topic: Safe Jetting Overview / Objective: Review of jetting course/ classroom instruction
Topic: Nozzle Demonstration / Objective: Field demo – re- different nozzle applications for various work required
Topic: Sanitary Sewer Main Field Jetting Applications / Objective: Identify various methods/ procedures in routine jetting applications
Topic: Storm Drain Main Field Jetting Applications / Objective: Identify various methods/ procedures in routine jetting applications
Continuing Education Credits: Upon Completion: 1.2 CEU's will be earned
Safe Jetting Storm/Sanitary Infrastructure (Course Number: 8047, CEU's: 0.60), Safe Jetting
Storm/Sanitary Practical Field Application (Course Number: 8142, CEU's 0.60)
Course Cost (per student): PWABC $630.00 for members / $750.00 for non-members (plus taxes)
More information:
Membership with Public Works Association of BC is not required to attend this event.
0.6 Continuing Education Credits from EOCP per day
To Register:
Please complete your registration form below: