ABOUT CPWA/APWA
The Voice of Public Works
The Canadian Public Works Association (CPWA), or Association Canadienne des Travaux Publics (ACTP), was founded in 1986 to enhance the services of the American Public Works Association (APWA) to the Canadian public works community. Since that time, CPWA has become "the voice of public works in Canada."
Who are CPWA members?
CPWA's more than 2,250 members across Canada join APWA's members across the United States to represent over 30,000 public works professionals in North America. These public works professionals plan, design, build, operate and maintain transportation, water supply, storm drainage, sewage and refuse disposal systems, public buildings, and other structures and facilities and provide community services that are essential to Canada's economy and quality of life.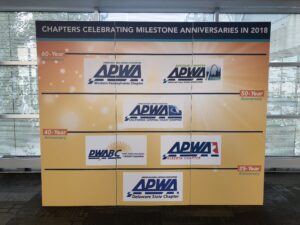 PWABC celebrated our 40 Year Anniversary as a chapter of APWA in 2018.