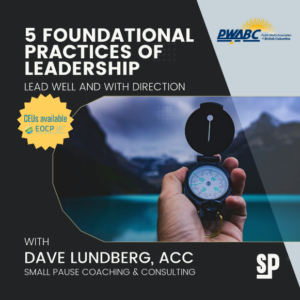 5 FOUNDATIONAL PRACTICES OF LEADERSHIP
Date and time: September 28th, 2023, from 8:00 am to 4:00 pm PST
COURSE DESCRIPTION:
Are you an emerging, newly promoted frontline leader or a leader looking to enhance your leadership skills? If so, the 5 Foundational Practices of Leadership session is the perfect opportunity for you. This full-day session is designed to enhance your leadership abilities and help you become an exemplary leader in your organization.
With almost 60% of frontline managers never receiving support for their first leadership role, taking advantage of this unique leadership development opportunity is essential. The 5 Foundational Practices of Leadership session is based on the popular principles of exemplary leadership from the best-selling 'Leadership Challenge.'
Throughout the session, you will learn about the five core practices of exemplary leadership, including:
Model the Way: Learn how to set an example for your team by demonstrating the behaviour and actions you expect from them.
Inspire a Shared Vision: Discover how to create a clear, compelling vision that inspires your team to achieve their goals.
Challenge the Process: Learn to encourage your team to take risks and try new things to improve performance.
Enable Others to Act: Discover how to empower your team by providing them with the necessary resources, training, and support to achieve their goals.
Encourage the Heart: Learn how to recognize and reward your team's contributions to foster a culture of appreciation and engagement.
In our day together, you will be guided through facilitated conversations that will allow you to explore what leadership means and how to put these leadership practices into action immediately in your current role.
Don't miss out on this unique opportunity to enhance your leadership development and become an exemplary leader. Enroll in the 5 Foundational Practices of Leadership session today and take the first step towards becoming the leader you know you can be.
Registration Fees: $350 plus GST per PWABC Member, and $450 plus GST per Non-Members (maximum 20 participants).  Prices are subject to change.
Continuing Education Credits: This workshop is eligible for 0.1 CEUs from the EOCP upon completion.
To Register:
Please complete your registration form using these links:
events.eply.com/5FOUNDATIONALPRACTICESofLEADERSHIP
https://pwabc.ca/wp-content/uploads/2022/08/SafeJet.png
109
255
Alex Christensen
https://pwabc.ca/wp-content/uploads/2018/02/pwabc-logo-blue.png
Alex Christensen
2023-05-25 19:46:06
2023-05-25 19:47:24
5 Foundational Practices of Leadership